REVERSE
The Klipfolio REVERSE function displays the values in a data set in the opposite order. 
The syntax for the REVERSE function is:
REVERSE( value )
Parameters
| | | | |
| --- | --- | --- | --- |
| value | the data set | numbers or text | vector |
How to use the REVERSE function
The REVERSE function takes the values specified and displays them in the opposite order in which they appear in the data source (reversing the values). This function is useful when you want to reverse values, such as a range of 30 days. The REVERSE function works well with the SLICE function, as the SLICE will specifiy the range and the REVERSE will specify the correct order to display that range.
To use the REVERSE function
Note: These procedures assume you are in the Klip Editor either as a result of building a Klip or editing a Klip.
Select a component from the Component Tree (Column, Primary Value, etc).
Click the Start Formula link in the formula editor.
Click the Insert Function button on the formula editing toolbar.
Select Data Manipulation>REVERSE from the Function's menu.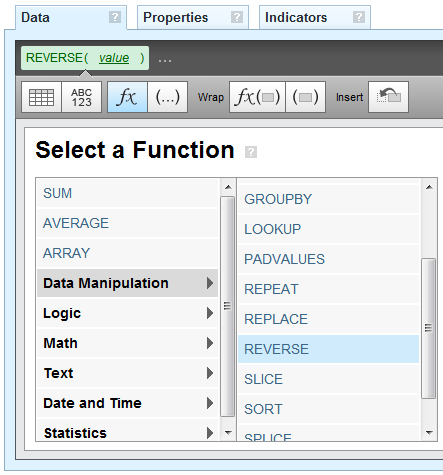 Select a range of values such as an entire column (A:A).
Tip! By nesting a SLICE function within the REVERSE function, you can remove the column headers from a spreadsheet data source.
The values will appear in the opposite order as they do in the data source, eg: Montreal, Ottawa, Toronto, Vancouver.
Examples of the REVERSE function
The REVERSE function is useful in a number of scenarios. In particular, by using the REVERSE function with a SLICE, you can provide a selection of data that removes all column headers. Note that if you specify ranges in the SLICE, that range will be based on the reversed values.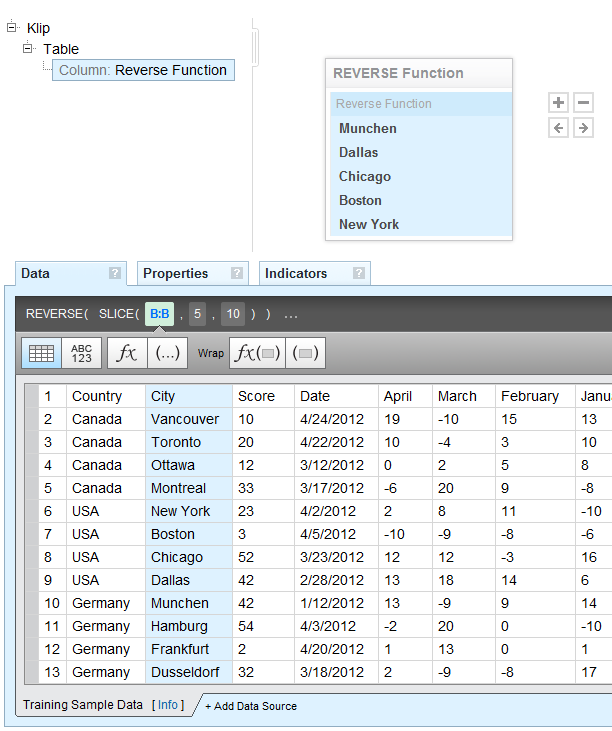 Related links:
Data Manipulation functions