What's in this article?
Learn how to use a dashboard permalink in a Klip.

Discover and paste a dashboard permalink into a Klip.

Information on formatting hyperlinks.
How to use the dashboard permalink in a Klip

Each dashboard you create in Klipfolio  has a permalink associated with it that you can use to access it at any time. Dashboard permalinks can be used in a Klip as a hyperlink to provide users with quick way to open and view relevant dashboards. For instance, you may link to a specific dashboard in a Klip to let users see more information associated with a specific department, such as sales or call center. For more information on discovering a dashboard's permalink, see How to use hyperlinks in a Klip. 
Using a dashboard permalink in a Klip
Once you discover the dashboard's permalink, you can refer to it by copying its ID to your clipboard and then pasting it into your Klip in the Klip Editor. To do this, you need to first type "#tab-" and then paste the permalink into your Klip (see this article for more details). Next, you will need to format the data as a hyperlink and, if desired, can insert some fixed text for the link. Alternatively, you can insert unique text for each dashboard permalink by typing"Your Text|" before the #tab marker (see image below). Please note this applies to any hyperlink.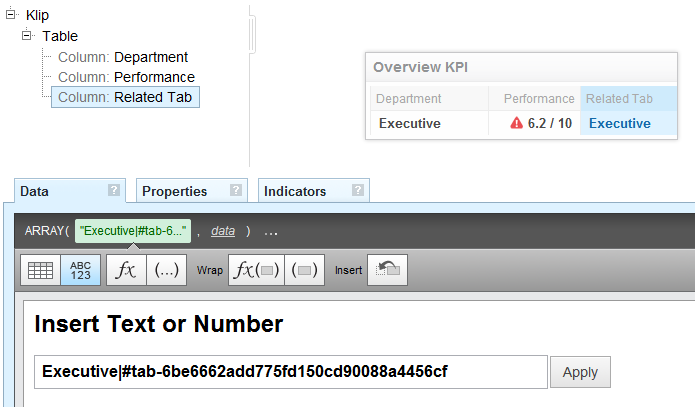 What's next?
Did you have trouble with the material in this article?
These articles may help: