Using drill down in a table component
Highlights
| | |
| --- | --- |
| Overview | Learn how to define a drill down path for a table component. |
| Key Features | Use drill down to summarize (group) data and use a presentation option to display or hide data in other columns. |
| Component | Drill down is only available for the table component. |
| Important | Only one column of data at any level can be grouped or summarized. |
| Video | Introduction to drill down |
Overview
Drill down lets you summarize (group) data in columns within a table component and provide users with a multi-level path to explore and analyze associated data in other columns.
For example, for a table where countries is the summary level and provinces is a child of countries. When you drill down on countries, the child categories, of Ontario, Toronto and Montreal appear in the table. Provinces replace countries at the summary level.
How to use drill-down in a table component
Assign all relevant data to columns and set the properties for each column.
Switch to the Drill Down tab and select the Enable drill down check box.
Select a column of data that you want to group.
Adjust how the other columns of data are to be displayed at that level.
Optional: Add other levels and groupings.
Step 1: Building a table component
Select Build a New Klip.
Select the Table component.
Select a new or existing data source.
From the Data panel, assign all relevant data to the table.
From the Properties panel, set the properties for each column of data.
Step 2: Creating a drill down path
From the component tree, select Table.
From the Drill Down panel, click the Enable drill down check box.
In the Group by box, select the column of data that you want to summarize or group.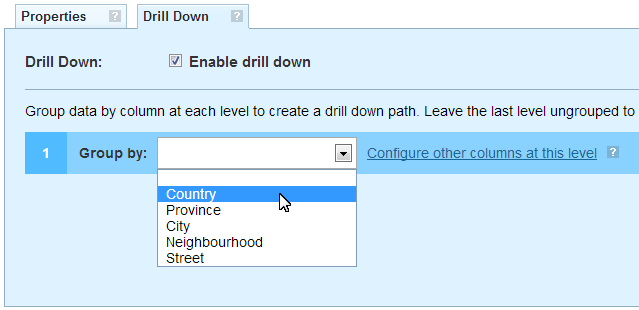 Click the Configure other columns at this level link.
In the Other Columns window, choose a presentation option for the other columns of data. You can choose from the following options: hide, sum, average, count, count distinct, min, and max.
Click Finished.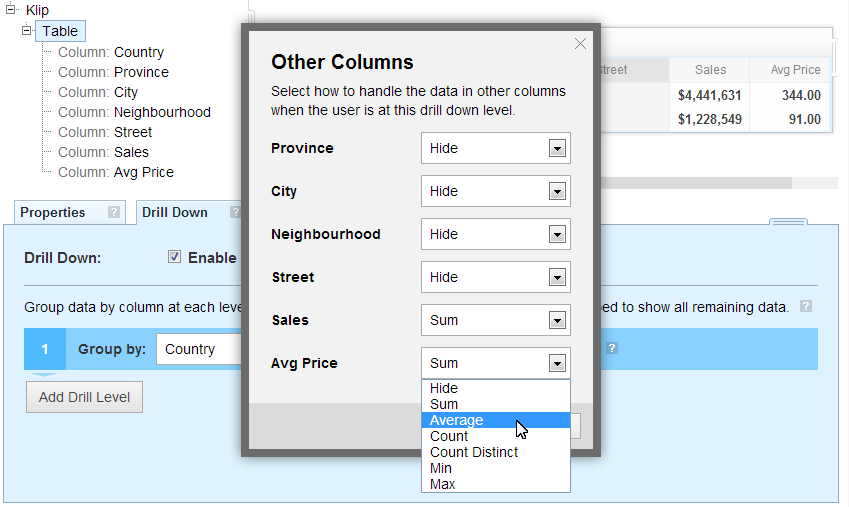 NOTES 

Only columns formatted as text can be grouped, as numerical values are automatically detected and summarized for each drill level. 

Drill down tables do not support the date/time format. Columns with date/time data must be treated as text and may require formula manipulation to achieve the date/time format required.



Click the Add Drill Level to summarize or group another column of data.
Repeat for other columns of data.

Note: You can select blank from the Group by drop-down menu, to show and hide other columns. This is particularly useful when you want to show or hide the remaining columns in a table.

Click Finished to save the Klip.

Note: A customized Results Row does not automatically total for other drill down levels.
Step 3: Drilling down on the data
For your finished Klip, in the grouped or summarized column, click on a clickable link.
For example, when we click the link for Canada, all Canadian cities are displayed.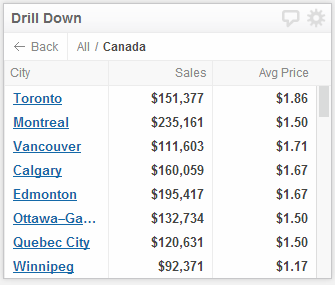 Click the Back arrow to move to a previous level of data or to go to a specific level, click the level's title.
Notice, when you click on a link and move from one level to another, the data in the other columns are immediately updated.
Related Links: